A world under one roof

From data analysis to staff support groups, Karen Ambrose and Anette Grindsted explain the work required to create a more diverse, inclusive and welcoming working environment at the Crick Institute, London
November 31st, 2021
The Francis Crick Institute is Europe's largest biomedical research facility under a single roof, with 1,500 scientists and support staff working collaboratively in a variety of research disciplines.
It aims to be a world-class institute, bringing together outstanding scientists from across the globe. It has an international outlook and puts a high value on difference and diversity. So what steps is it taking to create a more inclusive and welcoming environment for everyone? What has been achieved so far, and what further steps remain?
Committees and data
To drive forward the Crick's Equality, Diversity & Inclusion (EDI) agenda and ensure EDI principles are implemented in all Crick policies and the working environment, the Crick established an EDI Committee. Chaired by a senior group leader, it is made up of volunteers from a wide range of job roles, teams and staff networks, as well as two HR EDI professionals. All members have an interest and/or personal connection to diversity.
The committee recently developed a list of key priorities to ensure resources are used wisely to maximise impact. These key areas were established by looking at the areas of most need from across the different EDI work streams, backed up by survey and diversity data, as well as feedback from staff groups. Data is a big part of the Crick's EDI efforts – only by knowing the existing landscape can you identify where there are issues, take action and track progress.
Regular campaigns are run to explain how our data is stored and used to increase staff confidence in sharing their data. Regular analysis of demographics is benchmarked against comparable institutes, as well as UK and London populations, to compare progress and discuss actions. Data is also crucial to support our applications for Charter marks, for example Athena SWAN and Stonewall's Workplace Equality Index (WEI).
One of our priorities right now is to improve the analysis of ethnicity data in relation to recruitment. This includes ensuring recruitment reflects the local population for operations roles, and also that the institute focuses on increasing ethnic diversity in its scientific roles. To do this, the Crick is looking to collaborate with local and international universities to encourage a diverse range of applicants and are considering setting up fellowships or internships.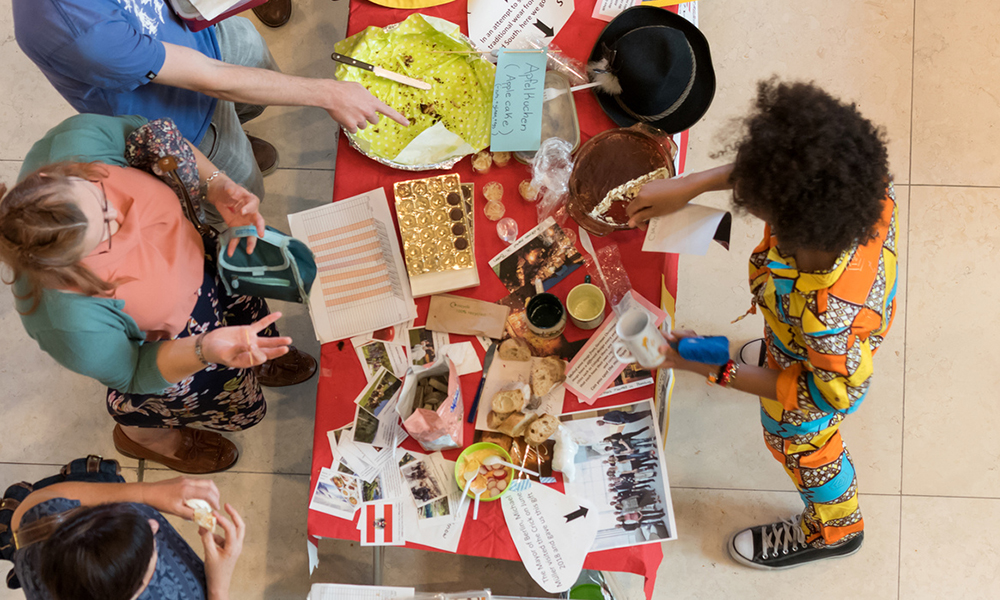 The Crick's annual Bring Your Culture to Work Day celebrates the 70+ different nationalities working at the institute
Staff-run networks
The institute has four staff network groups which further help to build momentum around EDI issues and support staff from different backgrounds. They are run by staff, for staff, and arrange a variety of events and initiatives that bring people from across the Crick together. The staff groups are PRISM, our Race Equity staff network group; Proud Crick, for LGBTQ+ staff; Enable, for the institute's staff who are living with a disability or neurological condition; and the Family Network, which supports all staff with caring responsibilities.
The staff networks are very active and host various events throughout the year. They also engage with networks in other scientific institutes and comparable organisations to share best practice and collaborate on events and socials. Each network has an annual budget and receives support from HR, but are all proposed, organised and run by interested employees and students.
These networks have been integral in cultivating an inclusive atmosphere at the Crick and helping provide important information and support to employees. They are also often consulted when relevant policies and other communications are being reviewed to ensure they are inclusive and to take into account the wide experiences and different backgrounds of their members. This all helps to make the Crick more attractive to a diverse range of potential colleagues and so it also aids recruiting and retaining the most talented people.

Awards and charters
In 2019 the Crick achieved an Athena Swan bronze award in recognition of its work on advancing women in science and progressing gender issues more broadly. To drive this work forward, the institute has an Athena Swan Steering Group that meets quarterly and is responsible for monitoring the large action plan that formed part of the submission.
The Crick is still active on the advancement of women in science, but in 2019/20 our EDI focus shifted to race equity as an area that needed to be prioritised, following the murder of George Floyd in the USA and the global expansion of the Black Lives Matter movement. Over the last year a very committed group of volunteers came together to set up a Race Equality Charter Working Group to look at staff feedback and develop an action plan to support the Crick's desire to bring about practical changes to improve the representation, progression and success of minority ethnic staff and students at the Crick. Currently the Race Equality Charter is only open to universities and so the Crick cannot apply, but it is using its principles to progress race equity work and hopes to be able to apply if the charter is opened up to us in the future. Events and more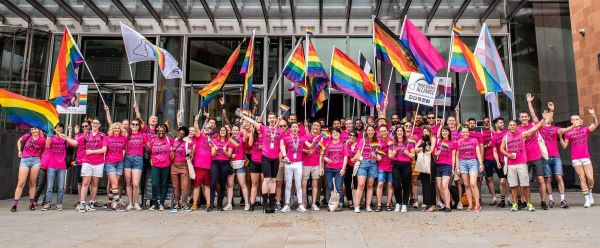 Proud Crick take part in the annual London Pride March 2019
The Crick has a workforce of 70 different nationalities and each year this diversity is celebrated via our 'Bring Your Culture to Work Day', organised by its own committee and PRISM. The day is always well-attended, with an array of food, drink, entertainment, musical performances, creative activities and more, and has become a highlight of the Crick's internal staff events calendar. Sadly last year the event was held on Zoom and was stretched over a week of activities, but the institute was excited to host the event in person again this year.
More broadly, the Crick has a very full events calendar and aims to ensure that its global outlook and commitment to diversity is represented in its speakers. Recent events include a talk by the author and science journalist Angela Saini followed by a panel discussion on race, ethnicity and science. A new Athena Swan series of lectures will focus on science in society with the aim of hosting a diverse range of speakers discussing EDI related topics with a scientific edge.
The Crick has made good progress with its EDI agenda, but there is a lot more that the institute wants to do. The focus on ethnicity and the recently formed Race Equality Charter Working Group is working on implementing an action plan to address the lack of ethnic and racial diversity across the organisation, including at senior leadership and executive level.
Karen Ambrose, Head of Research Data and Database Services at The Crick, is leading the Institute's action plan on race equality. She explains what motivates her to volunteer on such projects on top of her official role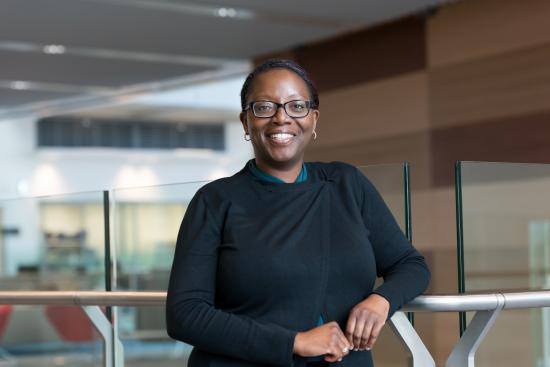 "My work days are usually quite full, but during lockdown they became progressively busier. Since March 2020, a large proportion of my time has been focused on setting up the Crick's COVID-19 PCR testing pipeline, established to test NHS healthcare workers, patients and care home workers in the North London area. It has been rewarding to support key staff to continue their work in a safer environment, and patients to continue their treatments, while also contributing to the global response against the virus.
Alongside my day job, I have also been working voluntarily to progress EDI and especially Race Equity at the Crick. I am the Chair of PRISM, the Crick's Race Equity staff network, and a member of both the Athena Swan Steering group and the EDI committee. It's important that EDI is part of the conversation between staff and senior management, to build education and awareness regarding issues that affect underrepresented groups. Even more importantly, EDI should be part of the strategic direction of an organisation.
The last 12 to 18 months have been particularly tough, notably because of the murder of George Floyd and the disproportionate impact of COVID-19 on ethnic minorities. It felt like a double blow but, crucially placed a global spotlight on race equity and the continued effort to push conversations and change further than before.
Representation and visibility at all levels is important. If you cannot see it, you don't believe you can be it, or at least have an opportunity to be involved in it. As part of PRISM, I have had the opportunity to drive forward work involving Crick policies and guidelines, thereby impacting governance and encouraging wider thought processes. One collaboration in particular with PRISM and senior Crick management led to an External Speaker Guidelines document being drawn up to ensure that freedom of speech is secured within a framework of tolerance and mutual respect both from speakers at the Crick and those in the Crick community.
In July 2020, I setup the Race Equality Charter Working Group, bringing together a wide range of staff volunteers at all levels to develop an action plan addressing the lack of ethnic and racial diversity across the institute. I feel a deep sense of responsibility to ensure that the dialogue regarding race and racism, and the impact it has on the lives of ethnic minority communities, is acknowledged and understood, in order to implement widely impacting change and to ease those conversations going forward. It has been encouraging to work with a wide cross section of enthusiastic and driven people, keen to be involved in the conversation with different ideas on how to progress racial diversity and awareness across different levels of the institute.

My EDI work is voluntary and I spend many hours in addition to my day job, working with other motivated volunteers. It can be tiring and a lot of energy is invested, but the rewards for me are being involved in many different conversations at all levels, the increase in education and willingness to be involved from the wider Crick community, and working towards making our working environment as inclusive as it can be.
It's is not all governance and process – there are lighter moments in this journey, like our annual cultural event, Bring Your Culture to Work Day, where we celebrate the many cultures within the Crick, of which there are in excess of 70. I founded this event in 2018 and it's great to see how this has evolved over the years through the collaborative input and involvement from Crick staff.
I continue to advocate actively for equality and am committed to driving change. Diversity is essential to excellence not just in scientific endeavour, but in all aspects of work. It increases breadth and perspective, leading to more innovation and creativity and also means that everyone can contribute to the development of society.
I was frustrated with the recent government report from the Commission on Race and Ethnic Disparities, which appears to discount the impact of structural racism and racism on society. If we are to have an honest conversation around race, we need to be honest about its impact, warts and all. This goes for all aspects of society.
Imagine what life would be like if everyone was allowed to realise their potential and we could benefit from all talents as one diverse global society. Progress is steady but change does not happen overnight. There is more that can be done and as the conversation increases so should momentum for change. We should never allow anyone to define who we are and what we can achieve. My ambition is that we get to a position of equity where everyone has a seat at the table to contribute their talent fairly."
Find out more about Prism, Proud Crick and other ED&I initiatives at the Crick here, and the RSB's commitment to ensuring equal opportunities in the life sciences.
Karen Ambrose is Head of Research Data and Database Services at The Francis Crick Institute, London. She also leads the institute's action plan on race equality.
Anette Grindsted is Equality, Diversity and Inclusion Programme Manager at the Wellcome Sanger Institute, and was formerly Diversity Adviser at the The Francis Crick Institute.