"It's almost like 'crowd-science' - which can really accelerate science"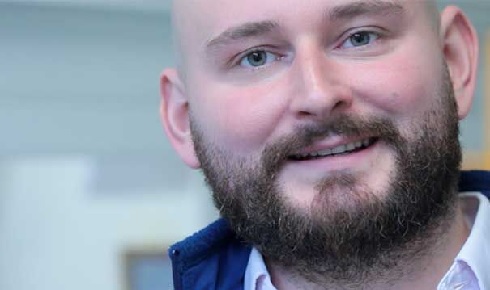 Open Cell's Thomas Meany on scaling up open-source COVID-19 testing assays – from a lab in a shipping-container to a dedicated space in The British Library.
In 2018 Open Cell began transforming empty shipping containers in Shepherd's Bush, West London, into affordable biolaboratories for biotechnology start-ups. But since January, the organisation has been focused on developing open-source COVID-19 testing assays. Co-founder Thomas Meany is now exploring scaling-up testing at the British Library, which may allow the Crick Institute, recently repurposed to conduct mass testing – to eventually return to its role conducting cutting edge research.
Can you tell us about what your role involved before the COVID-19 crisis and how that has changed since?
At Open Cell we develop biotech labs, in some cases in shipping containers in Shepherds Bush, and we've recently started looking at other spaces across London to expand capacity because of the need for early stage biotech space.
We got very worried around January when we saw the issue unfolding. Around that time, we began talking about how a high-throughput testing laboratory might look from an open-source perspective. 'Open' is above the door here for a reason, we're very passionate about that. Around the start of March we decided that this was going to be a serious UK emergency and we began adapting one of our shipping containers here into a laboratory specifically for the purposes of testing.
We read a white paper / technical notes on opentrons that outlined their testing procedure, and when we read it, I think all the stars aligned, and we just set to work. That paper came out at the very start of March and that's when we went hell for leather, so since then that's kind of been our prime activity.
We're just going through the validation process outside of the actual patient sampling and we're doing various controls to debug the high-throughput process. And then we're looking at how to get the certifications done properly, both for the HSE and Public Health England.
We have also been working very closely with the British Library, which has space adjacent to the Crick. We're trying to establish that as a longer term larger collaboration where that expertise from the Crick will be available. That facility has been incredible, but its job is to do frontier research as opposed to testing, long term. In the next six to 18 months they're going to need to go back online so we've put out a call for an 80,000 a day testing capacity, which will be part of that drive-through testing concept.

The British Library has been immensely supportive of that activity and so that space at the back of their building has been offered for the 18 months of this project. A huge kind of number of partners have made that happen, including MedCity, The British Library themselves, and Stanhope PLC. That's the kind of thing that allows really good science to leave the fantastic research facilities of the Crick, and at the same time, take the pressure off the NHS pathology departments and have a dedicated testing space.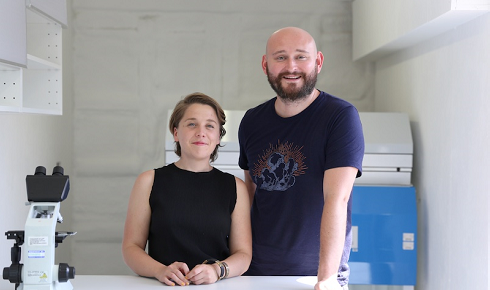 Open Cell co-founders Helene Steiner and Thomas Meany.
Have you sought additional funding for these projects and if so, how easy was it to navigate the relevant channels?
I think as I'm sure you've seen, maybe mistakes were made early on in the testing strategy – but that's something for a different conversation.
I think we found it initially challenging to communicate the availability of what we were doing, but I feel that it was more of an issue of just the overwhelming of the Public Health England team, and the fact that bringing stuff into the NHS is deliberately a slow process. It's a kind of an ideological shift and they're doing their very best. So we found it maybe a little bit tough but not unreasonably.
We're interested in how science works during a crisis – what have you noticed is being done differently owing to this being an emergency?
I suppose one thing that has been very positive and encouraging is the transition from a traditional publication strategy to faster methods of publication like pre-prints. As you know we're very passionate about open technologies and the physicists have been doing this for a long time, but biology has been a bit slower to embrace it.
One paper I'd flag is about high-throughput next generation sequencing from The Salis Lab at Penn State University – they just published a Google Doc. The authors were all still writing the paper, but they decided to make it public. I think from a scientific point of view what that allows us to do is to say, "okay, the Salis Lab are doing this, we know that x y and z hasn't been properly assessed, so we as a lab can actually take that up now and begin to critique that and rigorously criticise in our own experimentation". I think that can really accelerate things. Now we can just update our Google Docs on the fly, and another lab can publish an addendum as quickly as it takes to write on a screen, it's really almost like 'crowd science'. That's just one thing I've been very excited about.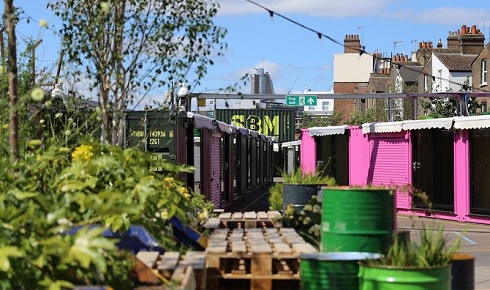 Shipping container units at Open Cell's lab space in West London. Photo courtesy of Open Cell.
What other kind of tools are you using to keep up with developments and to communicate your work quickly?
I have to say the social media platforms have been brilliant. I mean, at the moment, I actually use Twitter almost like my new like medrxiv reviewer. You have the heads of laboratories, but also the frontline researchers, first authors and mid-authors, they're all on Twitter. And then you can actually ask questions. We reached out to a number of people on that platform.
We also have calls out through our website, and there's a webform there to engage or you can call the number if it's urgent. And then we also use Slack to manage a lot of the volunteers who've come forward.
Can you talk us through some of the challenges of working during these strange times? For example, keeping yourself and staff safe, getting hold of in-demand equipment and reagents, or the effect on other research and departmental business?
I'll be honest with you, the effect on business across the spectrum, whether it's a bar or any business that requires anything in-person, is absolutely devastating. We've been very, very brutally hit by that. And I think that it's tough and it's going to continue to be tough.
On a more positive note there's just been an outpouring of support to companies here. Some have loaned us instruments that we needed for experiments free of charge. I just called a supplier today and said 'I can't get to a computer right now, can you just send it out and I'll fill the paper in later' and they said yes, fine. That's happened on a number of occasions – normal procedures being bent a little bit, not to the kind of detriment to safety, just red tape being cut a small bit.
I think in terms of the style of work, it's remote but very supportive of one another. So for example one person needed to do a transformation and they put on their cells at 6pm, I set up a little imaging thing for them so if it didn't work they don't need to come in tomorrow. Just a tiny bit of tech can help support each other.
We're looking to hear from RSB members or Fellows who have shifted their research priorities or repurposed laboratories to help fight COVID-19. Contact tom.ireland@rsb.org.uk if you would like to be featured or have any information to contribute to this series.
Thomas Meany is co-founder of Open Cell, which develops biotech lab tools and affordable biolaboratories for biotechnology start-ups.