"Our entire way of working has changed"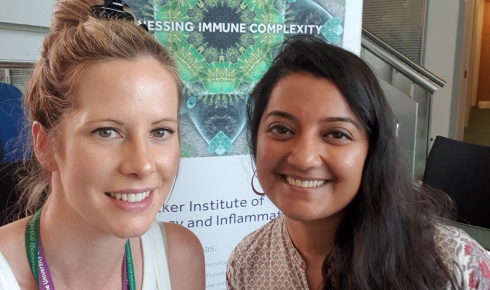 Immunologists Dr Elizabeth Mann (left) and Dr Madhvi Menon (right) are on the frontline of COVID-19 research, following the immune responses of patients arriving at hospitals across Manchester.
Can you describe what your role involved before the COVID-19 pandemic and how your focus has changed since?

We are immunology Research Fellows at the Lydia Becker Institute: Lizzie working on specialisation of macrophage function at mucosal sites and how they are tailored to the local environment, including the lungs, intestine and reproductive tract, and Madhvi working on the role of B cells in autoimmunity and how their function is shaped by sex hormones.
Our focus changed when we had a Lydia Becker group PI meeting a few weeks ago to discuss how collectively, we may be able to use our immunology expertise to better understand the immunopathology of COVID-19.
We are now focusing all our efforts to understand why some patients end up in intensive care with a dangerous overreaction of the immune system and others don't, in order to identify specific immune based therapeutic targets. Currently the standard care for these patients is supportive only with minimal treatment interventions.

What COVID-19 related projects have you been involved with and what have they achieved so far?
We are a core collaborative team that has been working closely alongside clinicians at the Manchester hospitals to characterise immune responses in admitted patients. We follow these patients all the way through admission to intensive care and hopefully back out.
In particular we want to understand the tipping point that determines why some patients recover and some decline, and the aim is to see if we can predict which patients are most at risk and to get them the appropriate medical help sooner.
We have generated these longitudinal data in real time, with each of us focused on different cell types that we specialise in. We have so far found striking changes in specific immune cells and molecules that correlate to timepoints during disease course and severity.
We are optimistic that this data will provide critical information regarding how and when to target the immune system for treatment in these patients.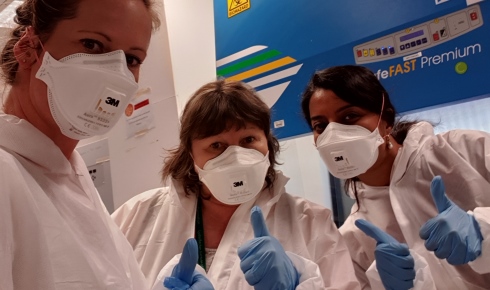 Dr Elizabeth Mann (left) and Dr Madhvi Menon (right) with Professor Tracy Hussell, director of Lydia Becker Institute, at work during the COVID-19 pandemic. The immunologists are tracking the immune response of patients in Manchester hospitals, from admission to intensive care, and hopefully, recovery.
What have you done differently owing to this being an urgent, emergency situation? Have you noticed a difference in the way teams across different fields and institutions are working?
In the midst of the university shutting down, our entire way of working has changed. We have combined resources and expertise to generate a core team to enable this programme, which would not be possible without such a positive collaborative effort.
We are collaborating not just across different fields within immunology, but working side by side with clinicians at the Manchester hospitals to help answer critical questions – for example in severe cases why do some patients respond to oxygen and others don't?
All of us feel strongly about this collaborative spirit and it is a truly fantastic interaction with clinicians that has enabled this unique set up to be put in place and generate a large amount of data so rapidly – with a special mention in particular to Sean Knight at Salford Royal. Sean has been instrumental in providing clinical expertise and coordinating patient treatment, follow up and samples on the ground. We are working with the Northern Care Alliance NHS Group and Manchester University NHS Foundation Trust at four different Manchester sites for this "One Manchester" approach.
Have you sought new funding or additional support for your work, and if so how easy was it to navigate the relevant systems to access this?
So far, we have focused all our efforts into generating the research data which has been pump primed by the University. We now intend to use this data to apply for external funding.
How are you communicating information from your work so that it can be utilised around the world?
We have been disseminating our COVID-19 research efforts at the Lydia Becker so far using TV (Channel 4 news, Sky news), radio programmes (Radio 5 Live Breakfast programme) and Twitter (@MadhviM and @lizziemannlab). We are currently putting together a manuscript with our findings for submission and giving a scientific presentation on this work for the International Union of Immunological Societies as a webinar in May.
Can you talk us through some of the challenges of working during these strange times, for example keeping yourself and staff safe and well; or the effect on non-COVID research projects/departmental business?
Working during the lockdown has been strange and very quiet – we work in small groups in order to minimize interpersonal contact and wear PPE at all times. The sheer volume of samples has meant extensive work hours, and the rapid need for data analysis has meant we have had to take an 'analyse as we go' approach. But doing a project like this in real time with significant translational potential has been very motivating for us all.
Trying to source reagents was initially a real challenge with the shutdown, but we now have a good set-up with the companies to receive urgent deliveries for our project – thanks to our excellent project manager, Chris Jagger and the support from The University of Manchester.
We're looking to hear from RSB members or Fellows who have shifted their research priorities or repurposed laboratories to help fight COVID-19. Contact tom.ireland@rsb.org.uk if you would like to be featured or have any information to contribute to this series.
Dr Madhvi Menon is a B cell immunologist and Presidential Research Fellow at the Lydia Becker Institute of Immunology and Inflammation, The University of Manchester.
Dr Elizabeth Mann is head of the Mann Lab and Sir Henry Dale Fellow at the Lydia Becker Institute of Immunology and Inflammation, The University of Manchester.