The Value of Species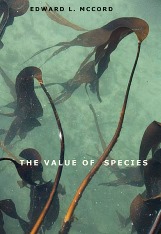 Edward L McCord
Yale University Press, £18.99
There is an increasing awareness of the economic value of biodiversity and the 'ecosystem services' it can provide, from pollination to flood defence. Edward McCord, however, points out that there are some species that will never provide economic benefit and only a small percentage actually serve our material needs. But McCord argues that every species has intellectual value and is inherently worth saving. He believes that species are so fascinating in their own right that they are worthy of protection.
Curiosity is fundamental to our consciousness and requires intellectual honesty. As a result, curiosity and honesty spark our appreciation of other species and if we lost these qualities what would it mean for human existence? Sustainability, he concludes, should not just be for mundane human survival, but for a flourishing human spirit, which requires the Earth's living heritage.
McCord goes on to highlight reasons for the destruction of species, including a view of private property that allows owners to use resources in ways that might not serve the public good and protect species. The lack of restrictions on the use of private property, he argues, causes most landowners to consider merely monetary value. It is a stark reminder that financial losses are temporary while lost species are gone forever.
As a species we have evolved an ability to contemplate the wonder of life and, ironically, we are the ones who are knowingly destroying it.
A recognition of the value of species is essential to an outcome where biodiversity is protected against other aspects of human nature.
Dr Rebecca Nesbit MSB