The Serpent's Promise: The Bible Retold as Science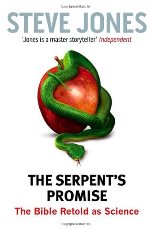 Steve Jones
Abacus, £9.99
The title is slightly misleading as Jones doesn't really re-tell the Bible. The text falls into two main categories: science stories inspired by the Bible; and Bible stories explained in scientific terms. The latter category more closely reflects the title and only parts of the Bible are covered.
Nevertheless, the science stories are brilliantly told, and while the Bible stories might have in a few cases rather speculative explanations, again the latter are highly entertaining and informative. As we should expect from this author, considerable prominence is given to genetics.
Jones takes an impressively broad approach, from family trees, via parasite resistance, to the dangers of small gene pools – as seen in certain religious sects. I was surprised, however, not to see more coverage of the Mormons' phenomenally detailed and enormous genealogy records. Biology in general features quite strongly in the book, and religious dietary laws are examined in the light of modern food safety. The other sciences are not overlooked. We don't know why the walls of Jericho fell down, but some plausible mechanisms are considered.
Surprisingly, there is no bibliography or reference list. It would be good to know where to go for more detail on some of the stories. But Jones might be justified in expecting readers to use their internet search skills for that and this does mean that a good read is not broken up by flipping pages back and forth every time a reference mark is encountered.
The style is gentle and respectful of the Bible as a cultural icon. Jones admires the beauty of its language, but is under no illusions as to its veracity as a historical record. As the book progresses, the narrative acquires a slightly harder edge and Jones leads the reader on a journey which has an inevitable destination. One of the best books I have read.
Les Rose CBiol FSB