The Science Magpie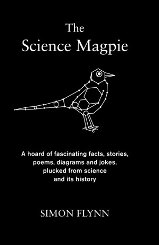 Simon Flynn
Icon Books, £12.99
Feel free to judge this book by its cover. The Science Magpie contains an eclectic mix of scientific facts and articles – from the basics of thermodynamics and particle physics to Newton's sins, Darwin's revealing thoughts on the pros and cons of marriage, and a rap about the Large Hadron Collider.
This menagerie of history and science interweaves major theories and modern developments with anecdotes, jokes, poems and songs, creating an informative yet light read. Each random entry of The Science Magpie stands alone and so can be read completely out of order.
With a contents section and brief explanatory appendix, it has the ability to engage even a momentary reader.
Whether intentional or not, author Simon Flynn (a trainee science teacher), has compiled a quirky collection of facts ideal for any student. This lighthearted dash through science touches on a range of complex scientific theories, while offering lots of curiosities that you will be itching to tell those around you.
Natasha Ganecki