The Hidden World: How insects sustain our life on Earth today and will shape our future
George McGavin
Welbeck, £14.99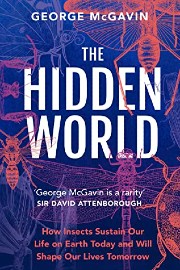 George McGavin is probably best known for his roles as a presenter and explorer, where he has developed a particularly hands-on style and a knack for pulling off TV-friendly demonstrations and experiments. Even in his official author photo he is wearing a thick headdress of swarming bees.
However, behind his slightly zany TV persona lies some serious entomological expertise: he is an honorary research associate at Oxford University's Museum of Natural History, formerly the museum's assistant curator of entomology and a senior principal research Fellow at Imperial College.
In The Hidden World, McGavin reveals that we have an enormously complex relationship with insects, even if most people don't like to think so. Insects are so successful that they have become ubiquitous in virtually every ecosystem on Earth. This ubiquity, in turn, means that much of the rest of life on Earth, including humans, depends on them in myriad ways.
On the physiological characteristics that make them so successful, he concludes that "if you were given the task of making a self-sustaining, self-replicating piece of miniature machinery that could survive in widely differing environments, it would necessarily look a lot like an insect".
McGavin's distinctly jovial writing is interspersed with extracts from a set of conversations he has had with interesting entomologists and naturalists, from the Natural History Museum's Diptera expert Dr Erica McAlister to Sir David Attenborough.
He also recounts various findings and funny tales from the many expeditions, experiments and stunts that he has worked on as a broadcaster – for example, when he and Edinburgh Zoo created a 'rot-box' – a large family kitchen and dining area covered in delicious food and encased in glass so that visitors could watch as it was dismantled and decayed by nature's waste-disposal organisms.
McGavin has been a dedicated insect-lover since he was a child, and every page drips with details to dissuade readers of the notion that insects are unsightly pests. Much of the contributions from his interviewees focus on the need to understand and stop the loss of insect abundance and biodiversity, and together with McGavin's gift for explaining the wonder of insects, it adds up to a compelling and very readable argument that we should all appreciate the hidden world of six-legged creatures far more.
Tom Ireland MRSB