Super-Charged: How Outlaws, Hippies, and Scientists Reinvented Marijuana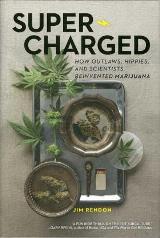 Jim Rendon
Timber Press, £18.99
It is all too easy to be partisan when writing or reviewing books on marijuana. Having an axe to grind, one way or the other, often means that facts are misrepresented or ignored. However, while the cover is perhaps not the best choice if one wanted to give the impression of a balanced story (in fact, it may put many readers off), the contents are pleasantly surprising.
Jim Rendon gives us a good tour of everything from the genetics of the plant through to the politics of the marijuana trade. We start with the early days of the flower power generation in the 1960s and move through to today's high intensity hydroponic operations and finally to a detailed discussion of marijuana's medical use. There are also a lot of interesting tidbits of information (such as the fact that California's illegal and medical marijuana crops are estimated to be the state's most valuable agricultural product).
One criticism is the severe lack of information on the negative aspects of marijuana, particularly the mental problems such as anxiety, panic attacks and paranoia that can result from short-term use. Overall, however, the book provides a thought-provoking perspective on this interesting topic.
Dr Oliver Jones CBiol MSB