State of the Apes: Infrastructure Development and Ape Conservation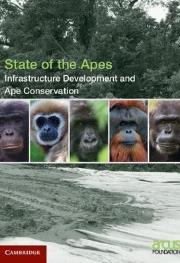 Arcus Foundation; Helen Rainer, Alison White, Annette Lanjouw (Eds)
Cambridge University Press, £29.99 (Open Access PDF available)
Human infrastructure such as roads, railways, dams and mines can have devastating consequences for the great apes and gibbons. Some of these consequences are obvious – for example, habitat fragmentation by roads and habitat loss when a reservoir floods land behind a dam. Others can be complex or unexpected. New roads, including service roads, can give poachers and loggers easier access to the forest, as well as increasing the likelihood of wildfires. In the Brazilian Amazon 95% of deforestation occurs within 5.5km of a legal or illegal road.
Alongside the ecological implications of infrastructure, the book explores politics and social science. This gives valuable insights that stretch well beyond ape conservation, exploring the trade-offs between ape conservation and human needs.
These trade-offs are made more complex by the uneven spread of costs and benefits between different groups of people. As the book points out, if you look at a map of roads in many developing nations, it is clear that they are designed to take wealth out of the country via its ports. Local people often bear the costs and don't receive the benefits. In particular, forest peoples may suffer in a wide variety of ways – for example, even if they are able to stay living within the forest, changes can lead to difficulties navigating in what was once a familiar environment.
These negative impacts on ape populations and human communities lead the book to call for stronger Environmental Impact Assessments, which consider both the long-term implications and social effects of development. If they are well conducted, impact assessments can determine when infrastructure development should go ahead, when plans should be modified and how their impact on apes can be minimised.
Illustrated by beautiful photos and a range of case studies, this book makes an interesting, if depressing, read.
Rebecca Nesbit