Six Legs Walking: Notes from an entomological life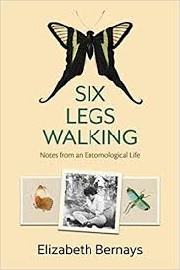 Elizabeth Bernays
Raised Voice Press, £12.99
Some people are born entomologists and some have entomology thrust upon them. Elizabeth Bernays belongs very much to the former category. In this series of essays, many of which have been published before but which together form a seamless whole, she describes her life from a "backward" child to becoming a renowned entomologist who, with her lifelong partner, Reg Chapman (of The Insects: Structure and Function fame), has travelled the world undertaking both applied and pure research mainly into insect feeding (what are the advantages for a grasshopper to be a specialist or generalist feeder? What are the factors that determine herbivore population dynamics?).
Her insights into all things entomological form a backdrop to stories of the steamy Anti-Locust Research Centre in the swinging sixties (who would have known!) to Nigeria, India and, most recently, more serene reflections from the deserts of the US.
Although Six Legs Walking is not primarily a scientific primer, it is full of ideas that may stimulate scientists in other areas – I hope to start looking at host fidelity in mosquitos in greater depth as a result of her book.
Thanks to her writing 'the cold skeleton of reason acquires living, rosy flesh and … science flourishes', to quote Julien Offray de La Mettrie. It is very easy to read and scores very highly on the feel-good factor. Highly recommended.
Derek Charlwood