Making Eden: How Plants Transformed a Barren Planet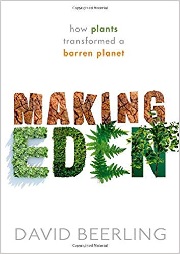 David Beerling
OUP Oxford, £20.00
'Making Eden: How Plants Transformed a Barren Planet' is a book first and foremost about plants. Covering every detail from their co-habitation with microscopic fungi up to ecosystem-scale interactions and the health of our planet.
Author David Beerling demonstrates his proficiency in all things green by exploring facets of the colonization of land by plants in times long past, though at times the book can become overly technical and protracted. Especially in the discussion of plant anatomy and functionality, the level of detail may exceed the desires of the interested reader.
Yet the saving graces of this book can be found in its later chapters, dealing with climate change and the extinction of species. Drawing attention to these crucial phenomena in itself would be a worthwhile endeavour. Yet Beerling does not stop at that and draws connections to the peculiarities of plants discussed in previous chapters, such as the influence of stomata opening on the global water cycle, and therefore on our climate. Making the case for the dangerous fragility of unevenly distributed plant species which keep our green planet going in the face of climate change and human interference, 'Making Eden' reminds us all of the fact that we cannot take our flora for granted if we forge ahead without change.
Daniel Bojar