HPV and Cervical Cancer: Achievements in Prevention and Future Prospects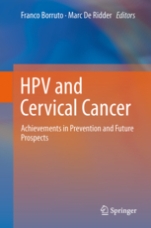 Franco Borruto and Marc De Ridder (Eds)
Springer, £135.00
Described as the "sum of the current available information on HPV", this book is indeed that, and then some. Every page in this compendium is crammed with information, from the history of how the HPV virus was identified, to the present use of therapeutic HPV vaccines. Laden with data, it should be every PhD student's bible.
However, it is bound to disappoint those who appreciate good visual illustrations. Most of the accompanying figures are of poor quality and some are barely legible. Nevertheless, there are chapters in this book that some parents (particularly of teenage girls) might find interesting: such as that dedicated to the prevention of HPV-associated diseases in the USA which gives an insight into the benefits of a cytological screening programme, the dangers of aggressive advertising by drug companies and the debate over whether it is cost effective to vaccinate males.
Likewise, policymakers may learn a lesson or two about the introduction of vaccination programmes – from the ethics associated with implementing them to the use of herd immunity in tackling lower-income populations. Warts and all, this book appears to be a must for anyone working in the HPV field.
Dr C Loughton