Giraffe: Biology, Behaviour And Conservation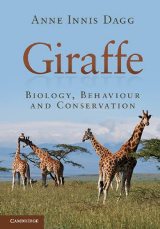 Anne Innis Dagg
Cambridge University Press, £50.00
Inspired by her first sighting of a giraffe during a family visit to Brookfield Zoo in Chicago when she was a young girl, Dagg wanted to learn more about these amazing creatures and made it her life's work to find out about them.
She studied biology at university expecting to learn all about giraffe, but found academic studies about the animals few and far between, and not part of her undergraduate classes. Dagg was determined to teach herself.
After arranging fieldwork to study giraffe in South Africa, Dagg set out to find out all about these creatures; in 1956 no prior studies had been made in the wild and she was worried that people might not study giraffe in the future, so wanted to find out as much as possible.
Lay readers and experts alike will learn much about the biology, behaviour and conservation of giraffe. As described, they have social groupings that would seem much more complex than might be assumed from a safari tour.
Furthermore, giraffe are currently considered as one species, but genetic studies indicate there may be six, currently considered as subspecies; more work is needed to confirm this and protect the species from extinction in the wild.
Dagg's discoveries and observations during fieldwork as well as autobiographical details make this book an engaging, inspiring and informative read that is well worth the time to read from cover to cover.
Dr Amanda Hardy AMSB