Funding Your Career in Science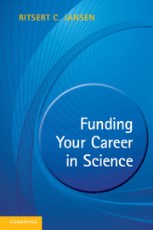 Ritsert C Jansen
Cambridge University Press, £16.99
This paperback is a follow-up to Jansen's popular 2011 publication Developing a Talent for Science. It is no coincidence that both are perceptive since the author is both professor of bioinformatics and dean of talent development at the University of Groningen, and boasts experience as a trainer on professional development courses. This is a practical guide aimed primarily at early career academics considering the major challenge of writing applications for project grant and fellowship funding. With success rates for proposals reduced to an all-time low, help on how to be competitive is precious.
It is divided into five sections: applicant, agency, proposal, evaluation and support. These present a step-by-step approach to producing a career grant application and offer insight into the strategies funding agencies follow in its assessment. Valuable information for the novice grant writer includes how to prepare before starting to write, and appreciating what grant providers want to see.
The key topic of developing a proposal is covered thoroughly, including the importance of an eye-catching title, convincing abstract, plan and impact statement. Understanding the process by which a review panel will score applications or what might be asked at interview gives the reader tips on how to rank highly. The final section is devoted to gaining institutional academic and administrative support to polish a proposal into optimal shape before submission – this outlines internal peer review, mock interviews and budget checking by finance officers.
One minor criticism is the level of repetition, as evidenced by frequent cross-referencing. However, this does enable sections to be read sequentially or as standalone chapters. Overall, this book is strongly recommended if you are a postgraduate biology student, postdoc or young group leader, or if you work at a funding agency or review grant applications.
Professor Andrew Taylor-Robinson CBiol FSB