Exploring Personal Genomics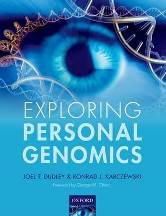 Joel T Dudley and Konrad J Karczewski
Oxford University Press, £34.95
Just occasionally, authors manage to achieve spectacular aims that sound hopelessly ambitious at the outset. Here is a remarkable example.
Dudley and Karczewski promise to provide readers of all backgrounds with "a fundamental understanding of the biology of human genomes, information on how to obtain and understand digital representations of personal genomic data, tools and techniques for exploring the personal genomics of ancestry and genealogy, discovery and interpretation of genetic trait associations, and the role of personal genomics in drug response..." Supplemented by chapters for more advanced readers, most of the book is a remarkable demonstration of how, through cogent and thoughtful writing, two authors can indeed portray the content and texture of highly sophisticated science in a style enlightening for a very wide audience.
Beneficiaries will include not only researchers, students and biomedical professionals but general readers and social scientists wanting to comprehend the personal and social implications of genomic information. Even (dare I say this?) activists concerned with abuses of genetic data in areas such as employment and insurance will find much of interest here.
Two further commendations are that the book is unusually up to date, containing many references to papers published in 2012, and that it is supplemented by a website describing ongoing developments in the areas covered in the printed text. Altogether, this is an exceptional piece of authorship and publishing.
Dr Bernard Dixon OBE