Discovering British Wild Flowers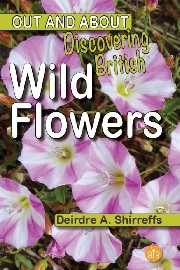 Deirdre A. Shirreffs
Brambleby Books Ltd., £8.99
During the pandemic there has been an increase in interest in nature and the environment, as daily walks in the local woods or park became an important if oddly repetitive feature of life in lockdown. Many people will have wondered about the beautiful and ever-changing selection of flowers they see.
Although recommended for children, Discovering British Wild Flowers would be good as an initial guide for amateur botanists of any age. A paper-backed, pocket-sized book, inspirationally illustrated with well over 100 colour photographs, the author has chosen to arrange the plants according to the habitat in which they are most commonly found. As a number will have more than one preference there is a 'Flower Colour Index' at the back of the book with a page reference for each flower.
The nine habitats include woodland, heath, walls, sand dunes, marsh, gardens, meadow, fields and 'hedgerows & roadside', the largest section and obviously the most accessible habitat for the majority of the readers. The introduction briefly describes the parts of plants and flowers, pollination and fertilisation, seed dispersal, leaf shapes, flower families and the importance of scientific names.
The description of each species is divided into three sections - namely general information, flower/fruit and leaves/stems, with symbols used to aid identification and include flowering seasons. The information contained within this book is compatible with the guidelines of the primary school curricula in the UK which makes it a valuable teaching resource.
The author's passion for the subject matter is reflected in the design and presentation of this delightful text - and not forgetting her attention to detail, including the very useful ruler on the back cover!
Jean Wilson MBE CBiol FRSB