Cultural Severance and the Environment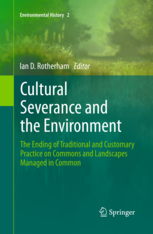 Ian D Rotherham (Ed)
Springer, £117.00
In 2013-14 Springer published the first three volumes in its Environmental History series. The objective was an exploration of the relationship between society and environment and its temporal changes. Cultural Severance and the Environment focuses on commons, lands and rights of usage in common, traditional and customary practices – that is, land management – and the outcome for people, landscape and biodiversity when such practices cease.
Organised into three parts, there are 31 chapters and 39 contributors. Part one defines the issues, notably the nature of the relationships between people and land in space and time, and how and why such relationships have been altered or discontinued.
The 10 chapters of part two present a wide range of case studies of cultural landscapes, including agro-silvo-pastoral systems in Italy, Himalayan grasslands and various European woodlands. Part three has a historical focus with examples drawn mainly from common lands in various parts of England, with the addition of a chapter on abandoned landscapes in the Czech Republic and Slovenia.
The fourth part focuses on the management and conservation of common lands and cultural landscapes, with examples from upland and lowland UK and Europe, plus a chapter on woodlands adjacent to Tokyo.
The concluding chapter emphasises the significance of traditional landscapes and their vulnerability. It raises important issues, but admits that solutions are elusive.
The strength of this book is the highlighting of these issues; perhaps Springer might like to consider a further volume on similar issues in the Americas and Asia to complement this welcome but generally Eurocentric text.
Dr A M Mannion