Career Planning for Research Bioscientists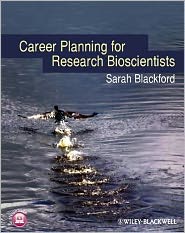 Sarah Blackford
Wiley-Blackwell, £19.99
Whether you are actively job hunting or just interested in boosting your employability skills, this book is full of tailored advice. Written in a friendly, informal style by a professional careers adviser, it is peppered with examples from her own career. At times it gives you the feeling you are speaking directly to a careers adviser, rather than reading a book.
Chapters cover career planning, an analysis of the job market, advice on writing applications and attending interviews. A self-awareness section and self-analysis exercises are useful for readers to learn how to promote themselves favourably and a chapter on enhancing employability suggests activities to strengthen applications. Particularly interesting are the appendices with careers profiles, a guide to using social media, tips for targeting your CV and several pages of resources.
As well as research careers in academia and industry, there is information on careers in science communication, policy, clinical trials, patent law and administration. The author explains job titles, job descriptions and what the roles actually involve, using real career narratives from bioscientists in different sectors. Career Planning for Research Bioscientists also covers careers in the UK, US and Europe.
Early-career bioscientists will find it easy to dip into this book for detailed advice on specific areas and it needn't be read cover to cover. The careers theory discussed throughout also makes it a worthwhile read for careers advisers.
Dr Eva Sharpe MSB