Birds and People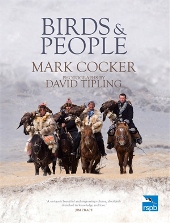 Mark Cocker and David Tipling
Jonathan Cape, £40.00
Eight years in the making, with a global network of 650 contributors from 81 countries, and with specialist research by Jonathan Elphick and John Fanshawe, this is the most eagerly awaited volume on our complex and changing human relationships with birds for over two decades.
With 400,000 words by Cocker (one of our most respected nature writers and champion of the importance of the sociocultural view of nature) and almost 400 photographs by Tipling (one of our most bold and skilled wildlife photographers), it makes for a diverse compendium that is both engaging and insightful.
This is no dry encyclopaedia, though, rather a distinct personal look at 144 extant bird families and two extinct ones to try to understand how we have interacted with them over time, and how we have impacted on them, and they on us.
At its heart, Birds and People is a celebration of shared journeys: where we have been with birds in the past, where we are now, and how we must embrace our social, cultural, economic and political responses to wild creatures when we seek to manage them scientifically. It is a book to dip into, on the spur of a moment, to find both uplifting and sad stories, to find connections and networks, and to seek broad and rich understandings.
The participation and encouragement of Birdlife International as partner in this book project gives the research a timely and pressing conservation ambition. Dip in and be delighted.
Dr Rob Lambert
Shortlisted in the General Book category of the Society of Biology Book Awards 2014