Billion-Dollar Fish: The Untold Story of Alaska Pollock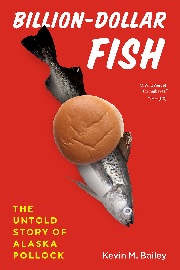 Kevin M Bailey
University of Chicago Press, £14.99
What do fish sticks, imitation crab meat and McDonald's Filet-O-Fish sandwiches have in common? They are all made from the snow-white flesh of Alaska pollock, Gadus chalcogramma. This silvery, bespeckled species of cod lives fast and – thanks to a sea crammed with fishing fleets – dies young. Nevertheless, it is the dominant species found throughout the subarctic coastal systems of the North Pacific Ocean, with large concentrations in the eastern Bering Sea.
Sometimes referred to as 'white gold' by fishers, Alaska pollock is the preferred prey for a large crowd of hungry sea animals, such as halibut, cod, sea lions, seals and a variety of seabird species – as well as humans. So popular is Alaska pollock that it comprises 45% of all marine fish harvested in US waters. The species is vulnerable to overfishing and, when a single vessel can catch almost half a million dollars' worth of the fish in half an hour, it raises the question of whether it is possible to maintain sustainable and profitable fisheries. This is the main question posed by Kevin Bailey, a retired NOAA Fisheries biologist, in his insightful book, Billion-Dollar Fish.
Bailey takes a deep dive into the complexities of commercial fisheries and how they have been managed in the USA since the Industrial Revolution, and how this management converges with international politics, socioeconomics and business, and affects the ecology of these fish and the other animals that depend on them. Bailey details the drama and the history of the Alaska pollock fishery from the viewpoints of its many participants: the fishers, environmentalists, scientists and politicians. He also shares often humorous personal accounts about his life at sea.
Bailey doesn't shy away from detailing the industry's failures, such as the disaster that occurred in 'the Donut Hole', a formerly rich pollock spawning area in the central Bering Sea that was overfished until it collapsed in the 1980s. We learn about other collapsed fisheries, including California sardine, Peruvian anchoveta and North Atlantic cod. Could the Alaska pollock fishery similarly collapse? Could we recognise and avert an imminent collapse?
This educational story is an important and well-documented case study that will be appreciated by fisheries students and scientists, and others who work in the Bering Sea, as well as those who want to learn more about the uncertain future of our environment and its living resources.
Devorah Bennu