A Sting in the Tale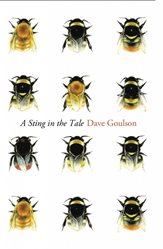 Dave Goulson
Jonathan Cape, £16.99
I can't remember the last time I laughed out loud when reading a book, but people did stare as I turned the pages of A Sting in the Tale by Dave Goulson – surprising, given the severity of the problems bumblebees currently face. The prologue sees the author as a young boy growing up in Shropshire with his menagerie of weird and wonderful pets. This sets the scene for the journey the book takes us on.
Centred around the short-haired bumblebee (Bombus subterraneus) we hear of its extinction in the UK and the efforts employed to return it to our shores. Woven into this is the story of bumblebees, from their biology – which includes how they manage to detect flowers recently visited by other bees – to the role they play in making tomato ketchup.
Goulson has a natural ability to draw the reader in to the story with an easy style of writing that is peppered with amusing accounts. As professor of biological sciences at the University of Sussex, the role of a research scientist is also brought to life in the book, with anecdotes about PhD students and their research. He also founded the Bumblebee Conservation Trust, the beginnings of which are entertainingly recounted in chapter 16.
Accessible to both scientists and those who have an interest in the environment, this is an ideal addition to anyone's bookshelf and has already enriched mine. If you read no other book this year, read A Sting in the Tale. You will not be disappointed.
Janet Preece