A Photographic Guide to the Birds of the Cayman Islands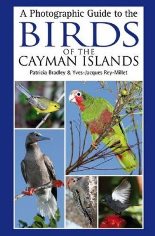 Patricia Bradley and Yves-Jacques Rey-Millet
Christopher Helm, £19.99
This is the first photographic guide to the three islands that make up the Cayman Islands – increasingly popular holiday destinations for birdwatchers.
The text includes a brief introduction to the islands, their history, climate, geology, vegetation and habitats, as well as the importance of the islands to breeding birds, bird migration and conservation.
An important section of this comprehensive guide is 'Where to watch birds in the Cayman Islands', which is particularly relevant as some areas of the islands are inaccessible to observers, either because of ownership or terrain.
One useful page for visitors includes tips on travel, warning of some of the hazards such as the poisonous Manchineel tree.
Prior to the main section there is a chapter entitled 'How to Use the Field Guide', explaining terms and abbreviations, as well as bird topography.
The majority of the photographs in the text are by co-author Yves-Jacques Rey-Millet and the majority were taken in the wild on the islands.
There is at least one page devoted to each species but several are allocated more so as to include sub- species, dimorphic plumages, immature and winter plumages.
There are superb photographs of the avifauna on 218 pages, with information on taxonomy, voice, habitat, behaviour, range and status. Useful appendices deal with extinct species, scientific names of the flora mentioned in the script, distribution of breeding and endemic sub-species, vagrants and very rare migrants.
A selected bibliography concludes this excellent and tempting guide which should be one of the items included in the luggage of the biologically curious visitor to the Cayman Islands.
Jean Wilson MBE CBiol FSB