How to Succeed with Distance Education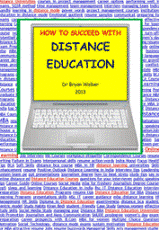 Bryan Walker
HelmAid, 2013
Free download from networklearning.org
Online delivery is becoming an increasing focus of university undergraduate education, and distance-enrolled student numbers are growing worldwide. In addition, there is a proliferation of free courses offered by elite institutions that are available to anyone with an internet connection and a desire to learn.
This e-book is an enjoyable read but a distinct misnomer. Its title implies that the slim volume will impart generic advice on how to be a high achiever in off-campus flexible learning. However, the content focuses almost exclusively on the author's experience of teaching postgraduates in the narrow field of humanitarian aid.
All examples and references provided are in this context, from which the reader is left to extrapolate information that may be relevant. Furthermore, most pages are dedicated to a treatise on how to prepare a research project proposal at the master's level, especially for part time registered development workers.
Much of this is worthy material, albeit rather formulaic. In particular, strategies to self-organise learning processes and to reinforce the experiential cycle are discussed.
An up-to-date list of useful website resources is provided. Since it is provided as a pdf file freely available online, the text lacks the editorial scrutiny of a reputable scientific publisher. This is a pity since the core content does impart some tips of value to the generalist biological researcher. The principles also apply to anyone seeking employment, changing career paths or looking for personal development during retirement.
A significantly rewritten second edition that targets a mainstream audience, with an appropriate title, would be welcomed. In the meantime, with little cost implication, readers may wish to examine the current version online.
Professor Andrew Taylor-Robinson CBiol FSB