Birds and Habitat: Relationships in Changing Landscapes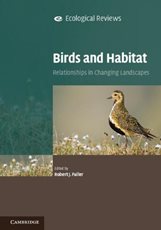 Robert J Fuller (Ed)
Cambridge University Press, £40.00
Habitat loss and deterioration are widely acknowledged to be the most important causes of species decline worldwide, and yet the relationship between species and their habitats is often very poorly understood. This has important consequences when we try to predict how species will respond to changing landscapes or climates, or when we attempt to interpret changes we have observed, such as the widespread decline in farmland birds.
Birds and their habitats have probably received more than their fair share of research, and Robert Fuller has spent three decades studying this in Britain and Europe. In Birds and Habitat he draws on much of this experience – plus that of more than 30 contributors – to explore the complexities of bird habitat selection and use, mainly in temperate, cultural landscapes.
The three parts of the book cover theoretical concepts relating to patterns and processes, case studies of habitat relationships, and wider perspectives, including studies in Australia and Canada. Among the key concepts addressed is the conundrum of what is good habitat. How can we identify it, or for that matter, how do the birds? The answer varies with species, time (breeding and non-breeding, for example), and spatially (in different parts of a species range or at different stages of a migration).
This is a thorough and detailed review which will clearly interest ornithologists and conservation practitioners but many of the early chapters are of value beyond the world of birds and would interest ecologists generally.
Dr Ian Powell