Computational and Statistical Methods for Protein Quantification by Mass Spectrometry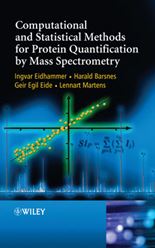 Ingvar Eidhammer, Harald Barsnes, Geir Egil Eide, Lennart Martens
Wiley-Blackwell, £60.00
A few hours before this book arrived I was giving a lecture to undergraduates on the importance of understanding the maths behind the ever increasing range of computational and statistical methods used in modern biology – rather than simply applying them. Reading this book is a good start on this mission.
While focusing on protein and mass spectrometry data, it still covers techniques applicable to many areas of biology (and indeed many other fields) which, as a previous reviewer notes, has become incredibly data rich. Bioinformatics is an important part of modern science but it is also imperative for the bioinformatician to understand the type of data they are looking at, the system it came from and the limitations of both.
Each chapter contains many useful examples and exercises, and there is a solution manual available online to check your results. Some knowledge of mass spectrometry, protein chemistry and statistics is required to get the best out of this book, and the use of many complex equations, while probably necessary, will mean that it will not be accessible to many. Persevere, though, and the keen reader will find much to learn here.
Dr Oliver Jones CBiol MSB