Becoming Wild: How Animals Learn to be Animals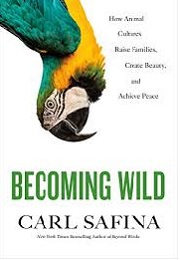 Carl Safina
Oneworld Publications, £18.99
Animals have culture. This has shifted ethology to an anthropology of selected species with levels of society relatable to us, framed by devoted experts. Safina traverses with them into their worlds.
There are three realms: Sperm whales under "Families", macaws in "Beauty" and chimpanzees seeking "Peace". Each section has christened animal individuals. Biodiversity was a trinity of genetics, species and habitats. Add culture, convincingly shown unconstrained by humanity: "information and behaviour that flows socially and can be learned, retained, and shared." It is of immense value to its bearers enabling survival and education through generations.
In "Families" we face the least familiar. Sperm whales with the largest known brains and superlative sonar for vision beneath a mile of ocean. Astonishingly, they may vary their daily depth by over 6000 feet to bone crushing pressures that helps explain their appearance. Shane Gero gets tearful about his mission, through whale families, clans and turbulent histories. Cetacean song amplifies a discourse on mankind versus leviathans.
In "Beauty" through Don Brightsmith and his proteges in South America, Safina describes how both sexes in large, bright macaws are equally beautiful and engaged in parenting unlike bower birds. Do macaws understand beauty as they gather in paired flocks at clay banks for salts?
"Peace" brings us closest to ourselves through Cat Hobaiter whose team is exploited as armoury in war games as chimps fend off rival communities in East Africa. Hobaiter deciphers signed chimp language touching on emotions and linguistics.
The dire conservation status in each realm is stressed. How much could we lose as well as them? Safina pricks inflated notions of our own worth. A slow and insightful read that gets close to animal values or even "religions". How they learn to be themselves in relation to others, both of their kind and beyond.
Rajith Dissanayake MRSB