Europe's Sea Mammals: including the Azores, Madeira, the Canary Islands and Cape Verde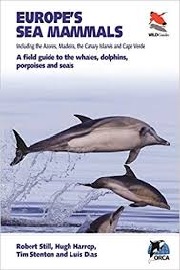 Robert Still, Hugh Harrop, Tim Denton and Luis Dias
Princeton University Press, £20.00
Trying to identify a sea mammal can be tricky because most move so fast all you get is a glimpse of a tail, fin, flipper or head, and are usually a long way from shore. Robert Still and his co-authors have found a solution: produce a little book full of images of fins, tails (flukes) and blow forms for the Cetacea, supported by diagrams, written descriptions and tips on where and how to find them.
After the single-page descriptions of each species comes a large section of detailed information about the cetaceans and pinnipeds, with notes on communication, breeding and conservation. This is followed by rescue information, species' classification and then legislation for sea mammal watchers to refer to. A thorough reference list is found on pages 196–201 and the final pages give us non-English names of the cetaceans covering French to Spanish naming.
Europe's Sea Mammals is one in a series of 'WildGuides' titles published by Princeton University Press and the care and detail put into this title is difficult to surpass.
Pat Sang MRSB