Pocket Guide to Whales, Dolphins and Other Marine Mammals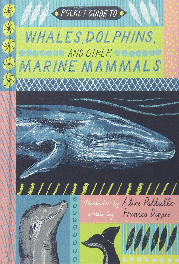 Dr Frances Dipper
Lincoln Children's Books, £8.99
Seeing a marine mammal in the wild is always a memorable experience. The instantaneous and intense feelings of awe and wonder that are often inspired by seeing whales, dolphins and manatees are also of immense value for conservation, inspiring lifelong interests and providing focal points for discussions about diverse issues, from plastic pollution to climate change.
The neat little Pocket Guide to Whales, Dolphins and Other Marine Mammals is an ideal entry point for children and young adults who want to find out a bit more about these charismatic creatures.
Beautifully illustrated and excellently organised, the book starts with a concise and colourful summary of the evolution and main adaptations of the different groups of marine mammals (cetaceans, otters, sirenians, polar bears and pinnipeds) followed by a very brief guide to where you might find them.
The rest of the book is taken up with descriptions of some of the most interesting and charismatic species in each group, combining technical information about their morphology and ecology with snippets of information to engage and inspire.
My six-year-old, who has already been lucky enough to encounter manatees and river dolphins in the wild, was fascinated and now wants to see a blue whale. So would I.
Ana C Malhado MRSB